Not your usual team building
Cryptomania PUB
A generous amount of ciphers and logic puzzles in the comfort of your conference room or a favourite restaurant. The refreshments are close by, smart entertainment ensured. Our hosts are always at hand and will not leave you helpless while you chase after the solutions of brain teasers, encrypted texts and mysterious images.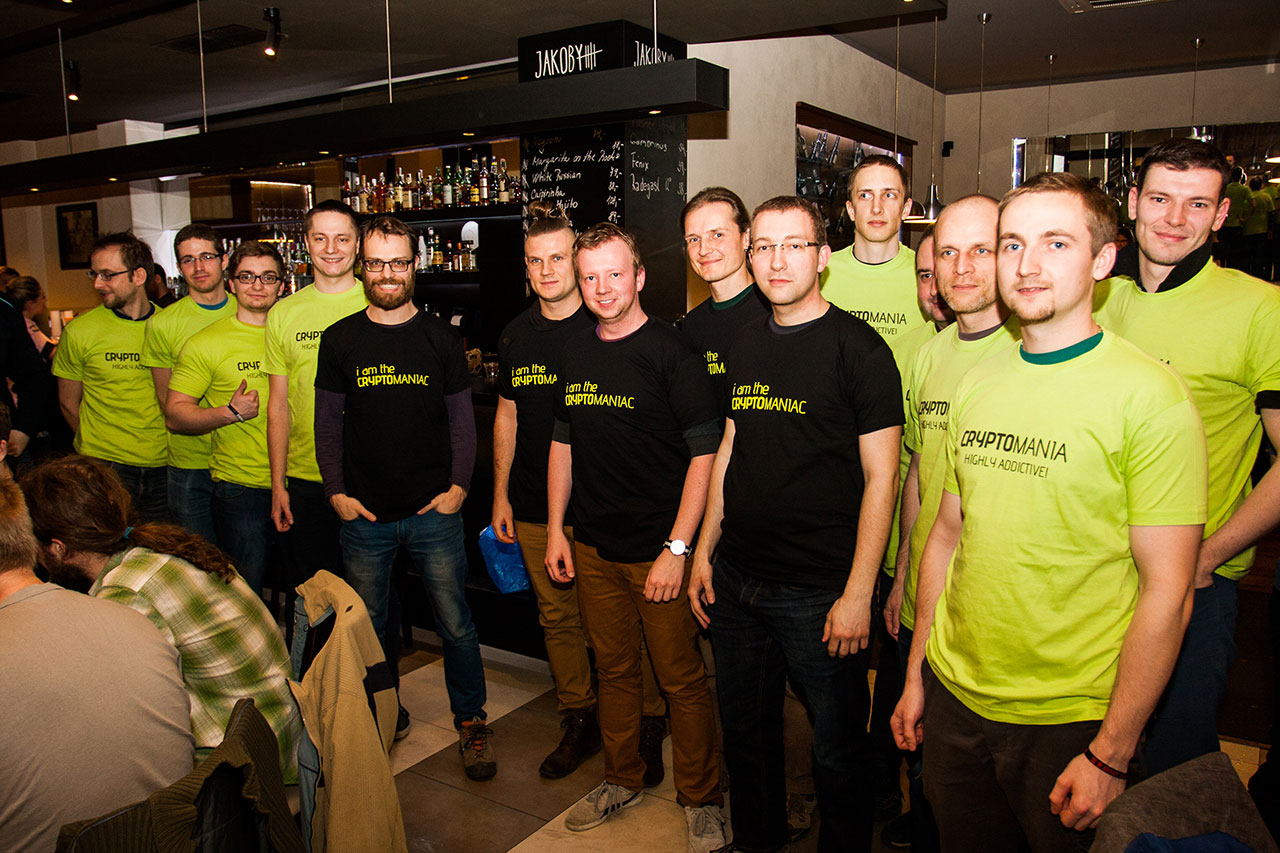 The ciphers appear right in front of you on the table, there is no need to walk anywhere, just play and enjoy the game. You only need to focus on the solutions and your team, only sometimes allowing yourselves to be distracted by a glass of a favourite drink. You are going to be surprised what you are capable of.
Do you have an amazing conference room? Or a favourite restaurant where you like to spend time? Cryptomania PUB is a puzzle hunt competition that we can organize anywhere you find comfortable. We would also happily join you at your conference or a company meet-up.
We will see you through our indoor puzzle hunt from the presentation of the rules at the beginning all the way to the announcement of results at the very end. And we certainly will not take up your whole evening, so there will be plenty of time for the real party afterwards. Do you say you cannot spare full 2 hours (during a conference, perhaps)? Contact us anyway, we can arrange a shorter variant as well.
5 reasons why choose the Cryptomania PUB
Smart entertainment as a part of your party or conference.
Intriguing original tasks which you will not find anywhere else.
Complex online gaming system.
Experienced team of hosts that is both fun and motivating.

We can do it all in English.
Puzzles go well with drinks
Four puzzles are available at the starting point. Four game paths of various difficulty. The easy one for a nice and smooth kickoff, the intermediate and hard ones as a challenge. And then there is the bonus one to leave you laughing, amused or amazed. 16 elaborate puzzles await you.
You can solve them in any order you want. Assign tasks or work together and gather all the ideas (yes, even the crazy ones). Talk to each other, get everyone involved, analyze, write, draw, discover. And win.
What are you having for a drink? That is, of course, completely up to you. The refreshments are at hand but remember, it is better to only warm up the brain, not numb it completely.
More than a little Cryptomania
Discover all the possibilities that our events offer. Cryptomania is more than just smart entertainment. Our cipher and logic puzzles draw attention and are a natural challenge that tests the abilities of your team. 
Use puzzles as a tool for a particular development or marketing purpose. Introduce a new product to your clients, remind your employees of the company vision or help them develop their creative and team potential.
Do you want to play Cryptomania PUB with colleagues?
If you are interested in the Cryptomania PUB program, let us know. We will be happy to write an offer for you or answer your questions. And if you don't like forms, call Zbyšek directly on +420 737 712 893 – he will be happy to advise.
Who can give a reference to Cryptomania PUB?
Do you want to look at other programs as well?